Services
Stretching Boundaries
Identifying new markets, be it local or international, is a hallmark of Sportive.
Sponsorship Strategy & Development
We instruct how to leverage and build experiences around sponsorship investments. We also filter through the deluge of sponsorship opportunities. Candidly we'll construct a sponsorship roadmap that matches your goals.
Impact Reports  
Create and build brand awareness by tapping the marketplace through deep understanding of trends, pricing, evaluation, state of the industry.
Gathering Data
Whether you're looking to revamp your fan base or just starting to sell merchandise or logo'd items, we help you make informed decisions through consumer research and testing.
Converting Expenses into Revenues
Events are business units. We treat events as businesses set up to create revenues and reduce exposure and risk.
Event Planning and Implementation
There are best practices for producing events. We offer solutions for sorting out the details, clarifying what's important, and putting it in a road map and guide: the ultimate playbook!
Remember, take the initial steps!
Projects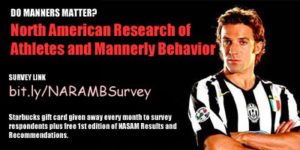 Do Manners Matter?
North American Research on Athletes and Mannerly Behavior Survey tool developed by Sportive Marketing Attending two low level competitive youth sports event a few years ago, I observed parents prompting their children to "take out the feet" of an opponent and "kill" another. Finding this a bit over-the-top and not very respectful or meaningful, I took a mental note of it and thought nothing more. Shortly thereafter I had a call from an etiquette expert in North Florida I've known for many years. I mentioned my two casual observations and asked her, "Do you think mannerly behavior carries any influence on how an adult reacts to workplace issues?" She reminded me the only way I'd ever know is to conduct a survey as part of the research. The North American Research (Survey) on Athletes and Mannerly Behavior was developed and is still a "live survey". Parents of athletes, coaches, sports marketers, event planners, recreational directors, and athletic administrators can't give up on what is important… The Future of Youth. If in fact there is a connection between manners on the field of play and aspirations of peacefully conducting business (while maintaining a competitive spirit) as an adult in the workplace (the hypothesis as a basis for the research), how and who we learn manners from is as important as what manners teach us about living with respect. If you know a middle age to college age student-athlete, team or organization interested in participating in the online survey, the athlete(s) can participate here: http://www.surveygizmo.com/s3/1998803/North-American-Research-of-Athletes-and-Mannerly-Behavior If a paper and pencil survey is needed, contact me. I've worked with several groups to conduct this brief survey in a variety of settings. Preliminary research results are due out in 2017. Stay tuned!
Consumer Buying Fuels Alternative Outlets
Sportive Marketing has conducted a multi-year survey of consumer buying behavior related to the purchase and consumption of alternative nutritional products and food growing systems. The survey has been distributed to a cross-section of industries and organizations. The Fresh Foods Survey and accompanying research will be published in 2018 in Sportive Marketing's QMIP– Quarterly Marketing Intelligence Publication.  
EXPENSE REDUCTION PROJECT
Expense Reduction is a Marketing Tool! 
Sportive Marketing's consultancy with organizations and properties includes assistance in analyzing the best way to reduce expenses to improve bottom line efficiency and generate more sales and impressions. As an advisor for World Wide Expense Reduction Advisors, Sportive Marketing has access to a variety of analysis tools and to a wide array of experts in the field of utility reduction, credit card payment systems, etc. These operations expense items never get the review they deserve and especially never get recommended by a sports marketing consultancy! Analysis is free to Sportive clients. Those who use it are amazed at the difference it brings to their organizations. Contact Sportive to get started. http://www.worldwideera.com/